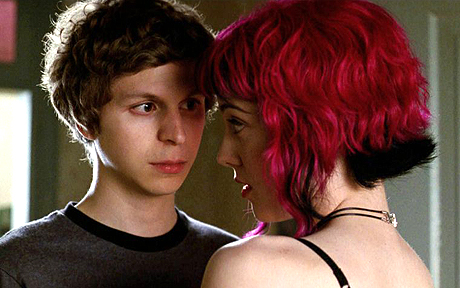 Directed by Edgar Wright this film adaptation of the graphic novel is justifyingly well made. A video game inspired film, Scott Pilgrim is the unlikely hero played by Michael Cera of "Super Bad". Scott is a 22 year old bass player in a 'trying to make it big' garage band called Sex Bob-Omb who along with his other friends voice their opinion of him dating a high school girl named Knives Chau. And again when he falls in love with new girl in town Ramona Flowers.
This film follows Scott on his desire to make Ramona his girl friend. But it's not as easy as just taking her out for dinner and a movie, it's much more like a video game where he must battle and defeat Ramona's 7 evil exes in order to be with her, with each one more powerful and jealous than the last.
This film has so much going for it I'd like to make a special mention about the impressive and original display of visuals like no other film I've seen. It truly brings a new and refreshing take on the action comedy genre.